Who We Are
The Illuminators is an organization of vendors and suppliers dedicated to developing and enhancing key relationships within the grocery industry, providing opportunities for education and leadership, and supporting the Illuminators Educational Foundation.
In September 1928, just prior to the annual convention of the California Retail Grocers and Merchants Association, a group of allied tradesmen gathered to consider a plan for improving methods of entertaining at grocery meetings. This plan met with unanimous approval, and during that same month The Illuminators came into being.
From the start, the roster of membership has been a "Who's Who" of the leaders in the food industry. There were 51 members the first year, who pioneered the infancy of the organization. One of the principal responsibilities has been to provide fun and relaxation at the annual gathering of grocers.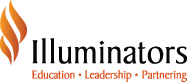 Headlite – Mark Olejnik, C & H Sugar Company/ASR Group
Sidelite – Paul Kamholz, Baswood Corporation
Spotlite – Tracy Lape, NuCal Foods
Tailite – Juan Trillas, Bimbo Bakeries USA
Advisory Officers
Dave Dimond, Milton's Baking Company
Jim French, Co-Sales Northern California
Willie Crocker, Bimbo Bakeries USA.
Historian – Bruce Wyatt, Flowers Baking Company
Many thanks to The Illuminators for their continued, generous support of the CGA Strategic Conference and for providing the outstanding meal functions and enhancing the conference social events.
Illuminator Sponsored Events:
Conference Breakfast & Lunch
Monday and Tuesday – September 25 & 26, 2017
Silent Auction
Available during regular exhibit hours on the main exhibit floor
Golf Tournament
Sunday, September 24, 2017 –  8:00 am Shotgun Start
Mission Hills Country Club, Rancho Mirage CA
To sign up, click here.
Join us and help "Spread the Lite of Good Fellowship" within the retail food industry.  Visit www.Illuminators.org to learn more about becoming an Illuminator member.